During his 16-year tenure at the helm of Louis Vuitton, Marc Jacobs tended to experiment with prints in a few specific ways; either he went for straightforward takes on the brand's iconic monogram and Damier patterns, or he brought in an art world titan to shake up the monogram for a limited edition capsule collection. Nicolas Ghesquiere, on the other hand, has shown quite a penchant for seasonal prints that have a vaguer link to Vuitton traditions, and the latest is Spring 2016's Chain Flower print.
The print takes the floral motifs from LV's signature monograms and transforms them into links on a chain that's rendered big and bold across contrasting Epi leather, reminiscent of the prints popular on silk scarves in the 80s. Chain Flower does a nice job of walking the line between brand conventions and something completely new, and those tired of logo-covered Vuitton bags will be happy to note it completely eschews the letters L and V.
Check out the first bags available in the print below.
Louis Vuitton Chain Flower Alma BB Bag

Louis Vuitton Chain Flower Cluny MM Bag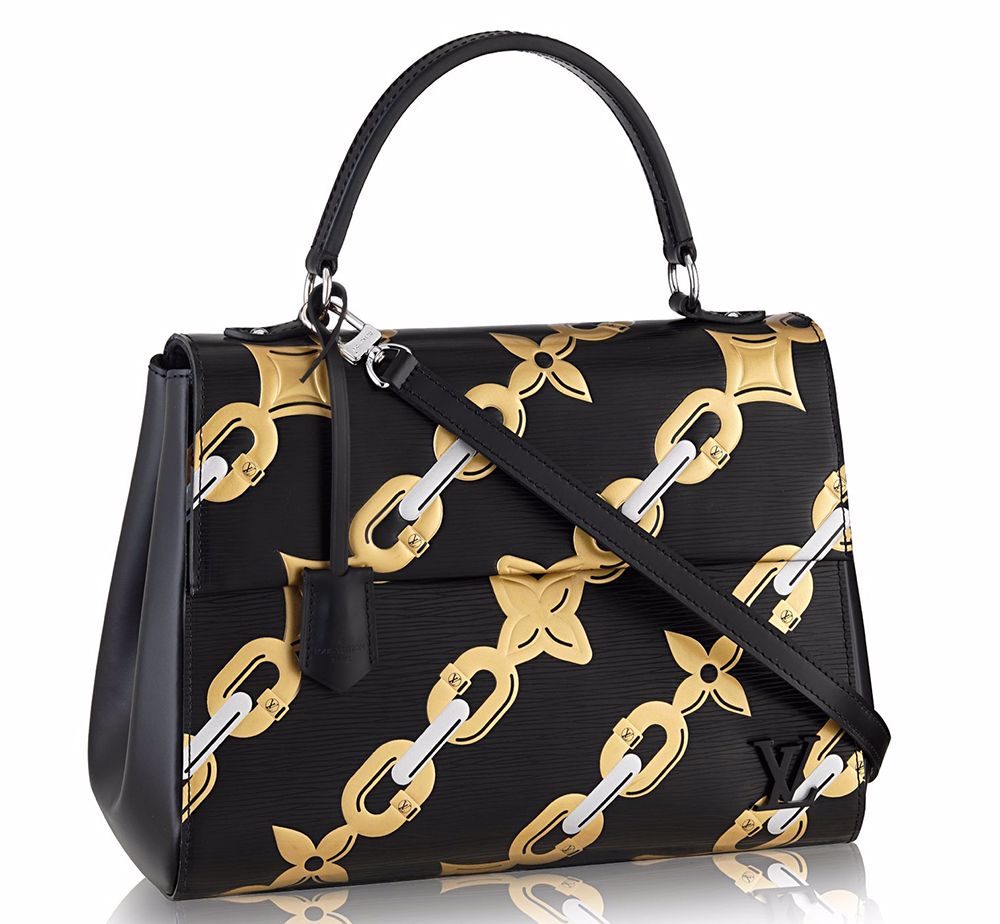 Louis Vuitton Chain Flower Mini Lockit Bag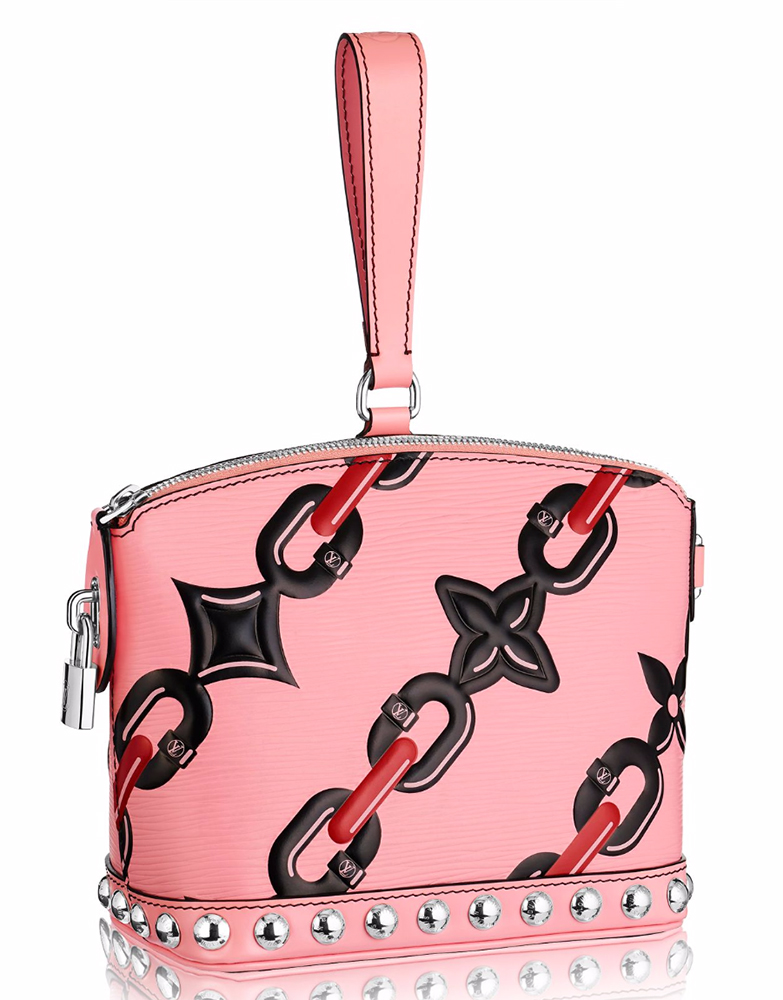 Louis Vuitton Chain Flower Petite Malle Clutch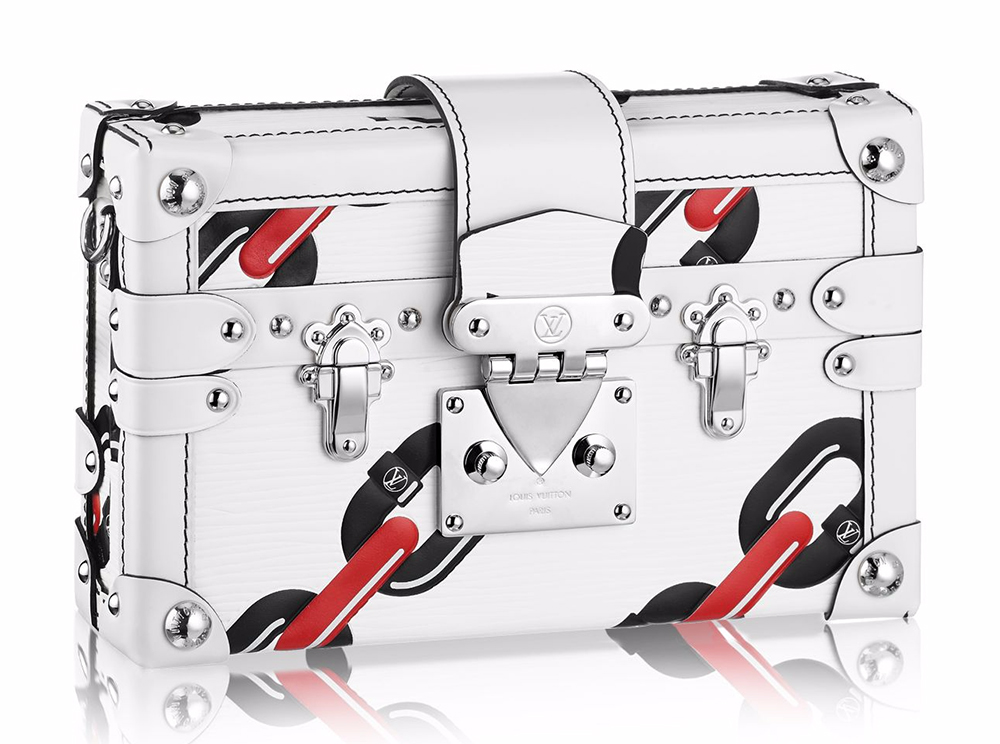 Louis Vuitton Chain Flower Twist Shoulder Bag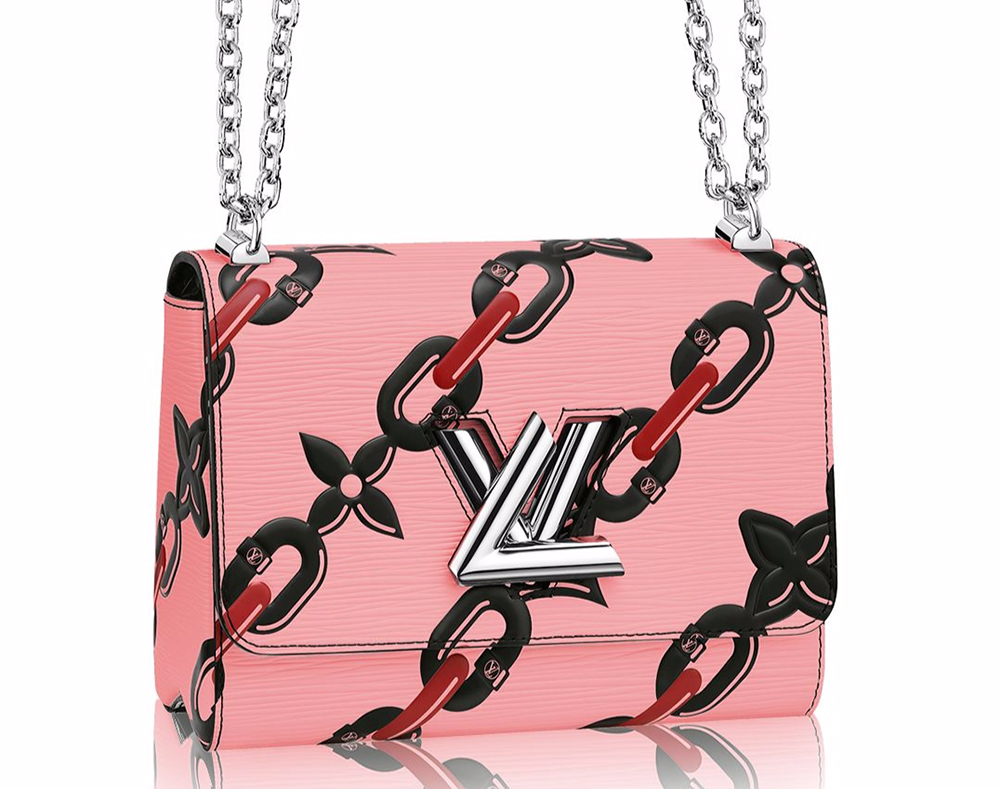 Louis Vuitton Chain Flower Alma PM Bag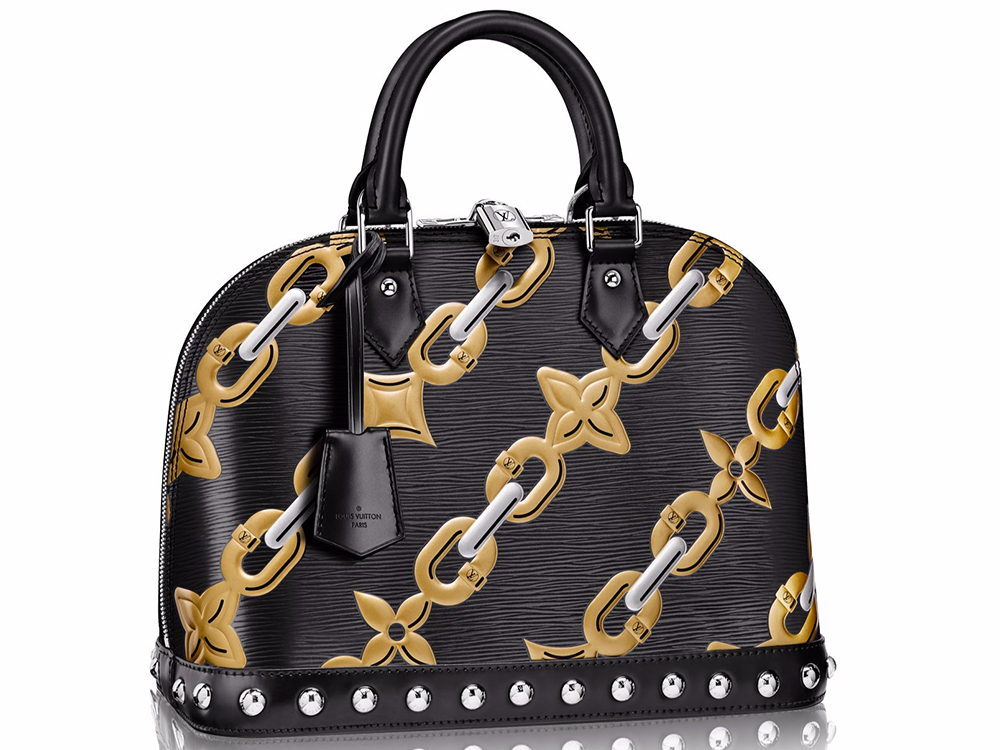 Introducing the Louis Vuitton Spring/Summer 2017 Bag Collection. The handbags included in the collection were first presented in the Spring/Summer 2017 runway show. The brand introduces a new print this season which is the Chain Flower, a pattern which features chain and the signature Monogram flowers.. The latest print is seen in a variety of Louis Vuitton's classic bags such as the Petite Malle, Alma, Twist and Cluny. The brand has also updated their iconic bags, the Speedy and Lockit, by introducing the Speedy Amazon and Mini Lockit. The Speedy Amazon is a shoulder bag without the top handles. The Mini Lockit is the miniature version of the Lockit bag, it includes a wrist-strap which can be used from day to night. The City Steamer Tote Bag is back this season in new colors including the Hologram design.
Petite Malle and Nano Malle
| Style | Price |
| --- | --- |
| Louis Vuitton Chain Flower Epi Petite Malle Bag | $5,750.00 (USD) |
| Louis Vuitton Monogram Canvas Petite Malle Bag | $5,500.00 (USD) |
| Louis Vuitton Monogram Canvas Petite Malle Fantasy Bag | $8,850.00 (USD) |
| Louis Vuitton Petite Malle DJ Box Bag | $8,850.00 (USD) |
| Louis Vuitton Galuchat Petite Malle Bag | $15,600.00 (USD) |
| Louis Vuitton Monogram Canvas Petite Malle Mini Bag | $6,050.00 (USD) |
| Louis Vuitton Python Nano Malle Bag | $12,400.00 (USD) |
Alma
| Style | Price |
| --- | --- |
| Louis Vuitton Alma Fusion PM Bag | $5,500.00 (USD) |
| Louis Vuitton Chain Flower Epi Alma PM Bag | $3,100.00 (USD) |
| Louis Vuitton Chain Flower Epi Alma BB Bag | $2,350.00 (USD) |
Twist / Go-14
| Style | Price |
| --- | --- |
| Louis Vuitton Braided Corner Epi Twist MM Bag | $4,050.00 (USD) |
| Louis Vuitton Chain Flower Epi Twist MM Bag | $4,050.00 (USD) |
| Louis Vuitton Chain Flower Epi Twist Chain Wallet Bag | $1,840.00 (USD) |
| Louis Vuitton Go-14 Hologram PM Bag | $4,300.00 (USD) |
| Louis Vuitton Malletage Go-14 PM Bag | TBD |
City Steamer
| Style | Price |
| --- | --- |
| Louis Vuitton Python City Steamer PM Bag | $10,300.00 (USD) |
| Louis Vuitton City Steamer Hologram MM Bag | $4,550.00 (USD) |
| Louis Vuitton City Steamer MM Bag | $3,850.00 (USD) |
| Louis Vuitton City Steamer PM Bag | $3,550.00 (USD) |
Speedy Amazon
| Style | Price |
| --- | --- |
| Louis Vuitton Speedy Amazon MM Bag | $3,950.00 (USD) |
| Louis Vuitton Monogram Canvas Speedy Amazon PM Bag | $2,530.00 (USD) |
Cluny
| Style | Price |
| --- | --- |
| Louis Vuitton Chain Flower Epi Cluny MM Bag | $3,700.00 (USD) |
| Louis Vuitton Chain Flower Epi Cluny BB Bag | $3,250.00 (USD) |
Mini Lockit
| Style | Price |
| --- | --- |
| Louis Vuitton Chain Flower Mini Lockit Bag | $2,280.00 (USD) |
| Louis Vuitton Mini Lockit Fusion Bag | $3,100.00 (USD) |
Capucines
| Style | Price |
| --- | --- |
| Louis Vuitton Python Capucines BB Bag | $10,600.00 (USD) |